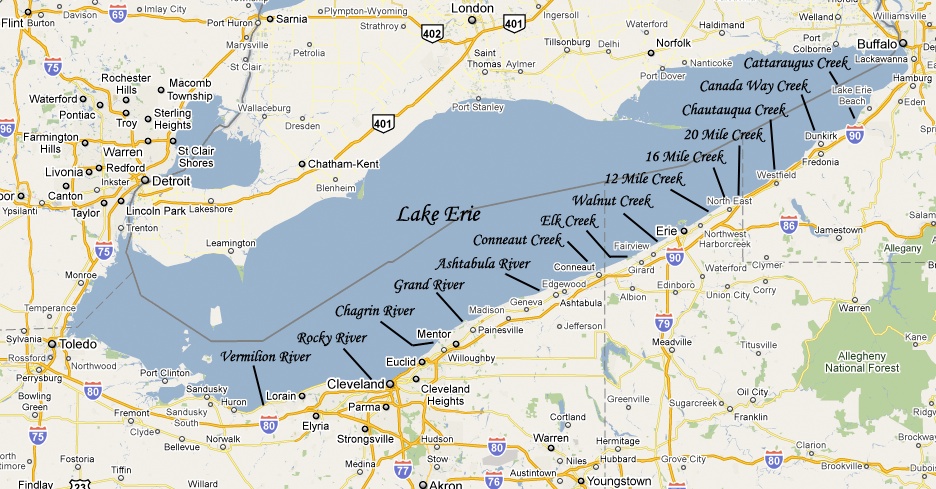 Steelhead Alley
The fishing out east has been consistently good the past week and a half. Steelhead are present from top to bottom of the main stems of Steelhead alley streams. Water levels have been extremely low and streams are absolutely gin clear (the Vermilion is running at 50-60cfs and the average daily flow for this date in recorded history is between 250-325cfs). 

As a result, a fantastic opportunity exists to observe steelhead behavior, how they interact with their environment and each other, their tendencies, how the react to disturbance and other stimuli, etc. It's a great time to go out and try out new flies too—especially fly tyers looking to test their own flies simply because the fish are so visible and you get instant feedback.
With these gin clear conditions we're running light leaders (6-8lb fluorocarbon), and sizing down patterns considerably. The fish have been pretty spooky, and can be very leader/indicator/bobber shy. When approaching the river bank, take a minute or two to look closely for fish before proceeding. Its paid off in spades to be methodical and to approach spots cautiously (to avoid spooking fish you might otherwise had been able to catch). Sizing down strike indicators/bobbers has been advantageous, as has wearing neutral colored clothing.
Stick to the riffles and target fish that are lined up side to side with one another.. they are the feeders. The fish that are lined up nose to tail are not the feeders. Typically you will see a solo spawning hen upstream of them, whom you want to avoid hooking at all costs. When possible try to find some water that hasn't seen much pressure.

TIP: Don't get too enamored with a certain fish or pod of fish for too long just because you can see them. The common tendency is to linger. It's more productive to move on and find a new pod of fish. 

WHAT WE'RE HAVING SUCCESS WITH:
Dead-drifting indicator/nymphing rigs. Peach and chartreuse egg patterns above a very small shiner pattern like Tak's Mini Minnow size 10. Small, natural colored Wooly Buggers size 10. Hares Ears, Stonefly patterns, Caddis larvae imitations (sz 10-12) have all been productive.  Downsize your indicator/bobber. Doesn't take much weight at all! 
Swinging brown/white Clousers, small white zonkers sz 10, and small olive and black Wooly Buggers sz 10 has also been effective.
Gear guys are doing well on spawn bags but I've been hearing them complain of their bobbers hitting fish mid drift bc the water is so low.

Michigan Steelhead and Trout
Spring has arrived up north, but unfortunately the low clear water up north does not spell the same good fortune as it does over in the Alley. WE NEED RAIN!! Water temps are upper 40's to mid 50's on most streams, and guides have reported seeing Blue Winged Olive Mayfly hatches, as well as some small black stone flies (size 16 or so). Between these hatches, Steelhead Eggs adrift, and Salmon Fry hatching, the trout fishing has been solid! Steelhead fishing was great a couple weeks ago, but consistently declining flows and warming water temps have pushed many Steelhead back down river en route to the big water. We're seeing a good amount of drop back bucks and spent hens getting caught, with a few fresh fish mixed in. We have been working the dark water and avoiding fish on their redds, and still finding success. The fishing will remain fair, but some rain would be a game changer. Dead drifting indicator rigs with yarn eggs, black stoneflies (size 14), alevins, 20 inchers (size 10), Hare's Ears (size 12), Pat's Rubber Leg (sz 10), and Ice Caddis' have been effective.

Stay tuned as conditions change!
Brad