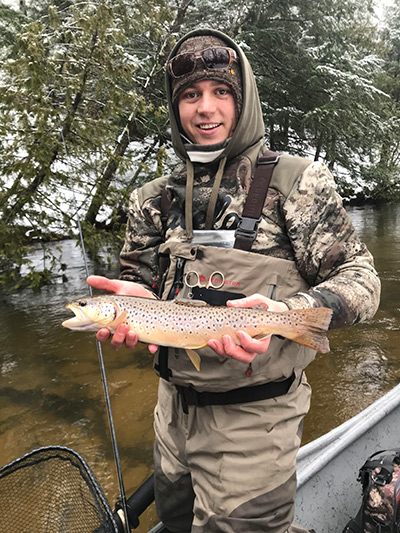 Luke's Vitals
Age: 28
Born: Traverse City, MI
Luke Fogarty is a 28-year-old guide from Northern Michigan. He has lived in Northern Michigan his entire life and has spent the majority of that time exploring the area's vast fisheries.
Luke has two brothers who are both serious fishermen as well. From middle school throughout high school, Luke's family would travel to Canada annually to fish walleye and big pike on remote waters.  Luke attended college at Central Michigan University where he majored in the opposite of fly fishing (accounting). Luke currently resides in Traverse City, Michigan where he works as CPA and Fly Fishing Guide. He has been guiding for 3 years now and absolutely loves introducing the sport to newcomers as well as enjoying time on the water with seasoned vets.
Luke's favorite types of fishing include mousing late at night for giant brown trout, streamer fishing on rainy days, and hex/brown drake spinner falls. He has been fascinated by entomology since childhood and has come to learn all types of insects over the years and how trout respond to various hatches.
Luke has many hobbies including long walks on the beach, trolling with downriggers, and following pop-country artists on Instagram. However, his main passion and drive come from chasing big trout on the fly.