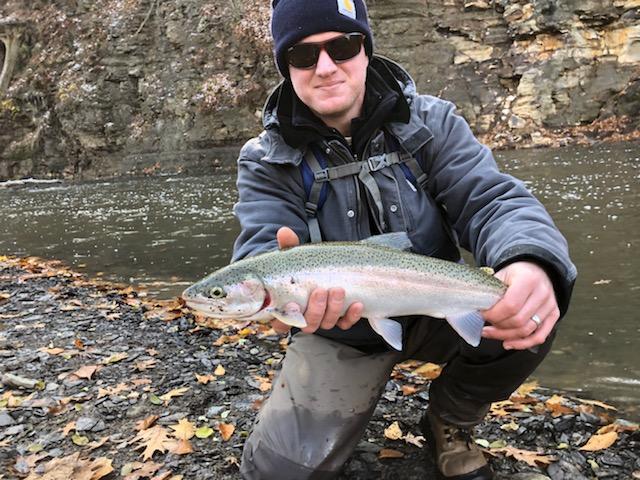 A.J's Vitals:
Age: 33
Born: Milwaukee, WI
A.J's Bio
A.J. began fly fishing at 12 years old at his grandparents house on Lake Noquabay in Crivitz, WI. For the next 10 years he was essentially a panfish and bass fly fisherman.
A.J. later discovered hybrid striped bass, and longnose gar on the Ohio river. This occurrence led to A.J. always having a fly rod with a small assortment of multi-species flies in his truck. After moving to Vermilion, OH it took him zero time to become proficient and addicted to chasing Lake Erie run steelhead from fall through spring. The summer is spent pursuing carp and smallmouth on the Vermilion river.
As a guide, A.J. has spent the last 6 years taking all manner of clients out, with the last 3 years being with Wildwood Anglers. A.J. teaches the principles of efficiency and simplicity. He is also an experienced fly-tier, and only uses flies that he has tied for himself and his clients.
A.J. is a husband and father who spends well over 150 days a year on the water (in 2017 he reached 234 days on the water). As a hunter, angler, and trapper there isn't much that he has not experienced outdoors in Ohio.