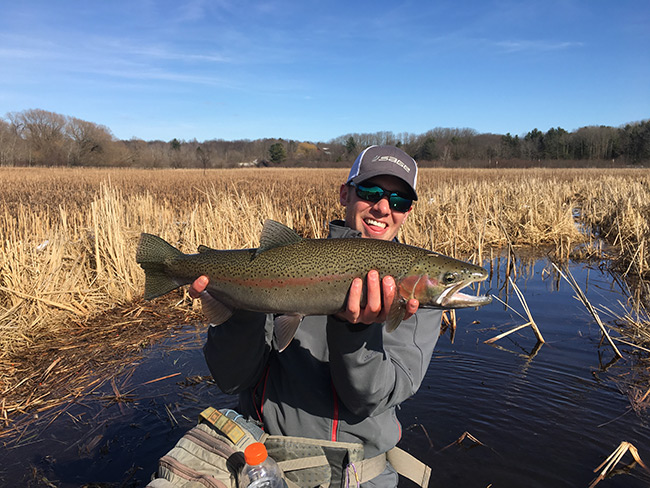 Brad's Vitals
Age: 37
Born: Toledo, OH
Brad's Bio
Bradley Dunkle's love of fishing and the outdoors started at age 5, when his father and uncle would take him up north for Walleye and Pike fishing trips to the cottage in Northern Michigan. Not only did he value the time he got to spend with family, but he also embarked on a life long journey through the outdoors that would take him across the country and beyond U.S. borders.
He continued exploring the outdoors and fishing throughout his childhood, but everything changed when he picked up a fly rod at age 13 angling for Steelhead on the Pere Marquette River in Michigan. Mr. Dunkle will tell you that from the moment he hooked his first Steelhead, he knew exactly what he wanted to do for the rest of his life. Fly fishing every moment he could manage home in the Midwest, Bradley's unquenchable thirst for the outdoors led him out west when he moved to Colorado in his sophomore year of college.
While pursuing his formal education at Colorado State University in Natural Resources Recreation and Tourism, Bradley began professionally guiding fly fishing, backpacking, snowshoeing, and horseback trips in the back country of Rocky Mountain National Park at Kirk's Fly Shop in Estes Park, as well as Vail Valley with Minturn Anglers. There, he learned the skills of a professional guide, and would often "disappear" during the off season to fish storied fisheries in Western Montana, North Idaho, the Olympic Peninsula, and Wyoming.
Over the course of 12 years, Bradley became an expert at his main craft and passion of fly fishing, but also became a skilled/accomplished outdoorsman in many other areas including hunting, survival, biological sciences and life cycles, particularly aquatic ecology and entomology. Family brought him back to his Midwest roots and he is now focused on spreading his wealth of knowledge and teaching others here how to enjoy all of the things he was lucky enough to enjoy out west. Bradley is a Certified Interpretive Guide and ACA Certified Canoe & Kayak Instructor as well.